I thought it would be helpful to create a resources page that you can always come to for all of your fitness, nutrition, and martial arts needs. I'll add to it as I learn more, but you'll notice that in the future I will reference this page quite often. I recommend bookmarking it for your reference and convenience. Enjoy!
Disclosure:  Please note that some of the links below are affiliate links, and at no additional cost to you, I will earn a commission if you decide to make a purchase.  Please understand that I have experience with all of these companies, products, programs, and services and I recommend them because they are helpful and useful, not because of the small commissions I make if you decide to buy something.  And if it makes you feel better I actually do own products/equipment and/or use programs from each of the companies that I recommend here. Please do not spend any time and/or money on these products unless you feel you need them or that they will help you achieve your goals.
MY MOST RECOMMENDED
FITNESS PROGRAMS
Starting Strength: Basic Barbell Training 3rd Edition: This is by far one of my favorite strength training books. It is simple, effective, and easy to follow. Mark Rippetoe does a great job at not only providing a great program but he also provides a great argument as to why barbells are the most effective tools for strength training. Best of all, the program is centered around 6 core lifts- squat, press, deadlift, bench press, power clean, and power snatch. He also explains how the human body adapts to stress through recovery and why this is the foundation of strength and lifetime health. For those of you that know me, you know how I always talk about the fact that it's not the over-training that prevents most people from reaching their goals but the under-recovering that screws us up. I can't say enough about this book. My strength training program for the last 15 years has been centered around the lifts in these books. Click here to purchase Starting Strength: Barbell Training 3rd Edition.
Gold Medal Bodies: When it comes to getting fit while achieving movement mastery with just your bodyweight, nothing beats the folks over at GMB. These guys are awesome! I have just about all of their beginners programs (Elements, Vitamin, Focused Flexibility, Integral Strength, Floor One and Two, Rings One, and Parallettes One). Their programs are structured, clear, easy to follow, and contain just the right amount of progressions to get you on your way to mastering your body. I HIGHLY RECOMMEND using any of Gold Medal Bodies' programs if you're looking into bodyweight training.  On a side note, I am also an Alpha Posse member which means not only am I part of a forum of amazing people, but should I choose, I can video myself performing any number of a variety of movements and send it to them to have it critiqued by their coaches. Plus they are always uploading new programs and challenges strictly for Alpha Posse members to try out. But you don't have to be a member to benefit from what they already have to offer. Click here to check out the programs at Gold Medal Bodies.
NUTRITION
Precision Nutrition: Nutrition shouldn't have to be complicated. Yet if you walk into any bookstore, surf the web, or even talk to professionals, you'll find that everyone says something different. No wonder nutrition is extremely confusing to most people. Fortunately Dr. John Berardi and the folks at Precision Nutrition have come up with a way to make eating properly simple, sensible, and effective. And instead of bogging you don't with counting calories and measuring, their focus is on creating proper habits. I am a Precision Nutrition coach but before they even offered this certification, I followed PN since its inception. I even owned the very first program they came out with. Now they are on their fourth version and it just keeps getting better. I knew then that Dr. Berardi was onto something. Because of PN, my nutrition has been on point and without the stress, guilt, or even shaming that other products and professionals out there make you to feel. What I even like more is that Precision Nutrition is backed by evidence-based science and real world results. There are not many companies out there that have the proper balance of theory and application that this one does. So if you're looking to find a practical way to improve your nutrition or take your nutrition to the next level then this is it. They offer both self-study programs and coaching. Click here to check out the Precision Nutrition self-study program.
MARTIAL ARTS
Filipino Martial Culture: If you're looking for a resource on Filipino martial arts and Filipino martial culture this book has it both. No FMA practitioner's library should be without this book. Mark Wiley traveled the globe, interviewing top masters and recording their life histories, thoughts and anecdotes. He also collected numerous photographs and illustration, including step-by-step sequences of the masters demonstrating the techniques of their particular style. I particularly like that he started off each chapter with a quote by the master that chapter was about. As an instructor, I still find myself combing through the chapters and referencing a lot of the information when my students have questions about the history of kali, arnis, eskrima. Click here to purchase Filipino Martial Culture.
Modern Arnis: The Filipino Art of Stick Fighting: Modern Arnis is the system created by the late Grandmaster Remy Presas. It is also one of the styles taught in our system's curriculum. This book covers a variety of preparatory stretches and warm-up exercises, the 12-zone striking and defense systems, hand-to-hand combat ("trapping hands"), flow-practice drills, sinawali and redonda, this 160-page, fully illustrated text gives novices a tangible amount of self-defense skill through specific drills. For example, the sinawali is taught without sticks, in empty-hand fashion, to illustrate how its weaving motions can be easily translated into empty-hand movements for blocking, punching, and takedowns. He discusses the 12 important angles of attacks on the human body, 12 basic ways of dealing with each angle, plus stick and sword disarming techniques. Click here to purchase Modern Arnis.
MARTIAL ARTS EQUIPMENT
Action Flex HIT Series: Although Filipino Martial Arts is traditionally practiced with rattan, practicing with padded sticks offers its advantages as well. In my classes we use the Action Flex sticks not just to spar, but also in drills and techniques where we intentionally want to make contact. I'm a firm believer that "you fight the way you train" so at some point some contact has to be made. The disadvantages of rattan is the fact that you don't want to make contact against your partner's hands, for example, because naturally you don't want to hurt them. If all you do is practice with control then conceivably you may end up defending yourself with control. So ideally, a Filipino Martial Arts practitioner should practice with both solid sticks and padded stick. In our classes we use both. The size we use is typically 28″ but that is dependent on individual preferences and the style that you practice. Click here to purchase Action Flex HIT Series padded sticks.
FITNESS EQUIPMENT
Clubbells: If you're involved in any martial arts, whether it is weapons, striking, or grappling, no piece of equipment will keep give you a strong grip, healthy shoulder, and powerful upper body all at the same time with minimum equipment like steel clubs. I like referring to these bad boys as the kettlebells' cousins. I believe they do for the upper body what kettlebells do for the lower body. I own a pair of 15 lbs clubs and a 45 lbs club from RMAX International and I absolutely love them. To all my fellow Filipino martial arts practitioners out there especially, I think steel clubs are a must for you. You will definitely see improvement in your weapons training. I recommend a pair each of 10 lbs, 15lb, and 25lb clubs if your goal is shoulder health strength, and mobility. For those who want a challenge, feel free to get their 45lb bruiser. Click here to purchase Clubbells.
Kettlebells: As an NYC personal trainer and Filipino martial arts instructor, I have not seen any fitness tool out there that is as versatile as kettlebells. They train power, strength, endurance, stability, mobility, everything!!! Now don't get me wrong, I still love my barbell lifts and I still believe everyone, especially martial artists, should have the base of their fitness programs centered around barbell training. But what I really like about kettlebells is the ability to use your limbs independently. Something barbells just don't allow. It is also a fact that lifting a kettlebell versus lifting a dumbbell of equal weight is also very, very different. Your neuromuscular system receives are for more challenging stimulus with kettlebells than it does with dumbbells. That just means greater adaptation for your body. My in-home equipment consists of clubbells and kettlebells and I absolutely love it. Yours should too. Minimal tech with maximal effect. I have to recommend Kettlebell Kings when it comes to kettlebells. They really have lot of high quality stuff both competition style kettlebells and powder coated kettlebells. If you have the space for it I recommend their Competition Kettlebell Pair sets that include a pair each of 8kg-32kg in 4kg increments if you have the room for it. If not, a pair eahc of 16kg, 24kg, and 32kg would suffice.  Click here to purchase Kettlebells.
Steel Mace: In the real world, loads are rarely ever perfectly balanced. You juggle kids, your groceries, and imperfectly balanced boxes. Steel maces were originally developed by the Persian Warrior Elite for real world combat and wrestling. Thanks to the disproportionate weight displacement, you'll be optimizing your stabilizer muscles, joints and primary power centers. The majority of the weight of the steel mace is in the ball at the end of the steel shaft. Because of this imbalance in weight, the steel mace allows for some very challenging counterbalancing movements that can work muscles in a completely unique way. I recommend a 15lb mace and a 25lb mace for the right balance of coordination exercises and grinding exercises. Click here to purchase Steel Bells.
Suspension Rings: These Suspension Rings from Onnit are some of the most versatile, effective, and durable suspension training implements available today. The Suspension Rings can be mounted on any overhead anchor point and most doors with the use of the included door mount component. The rings can be used to target multiple muscle groups in the upper and lower body due to the wide range of exercise variations that can be performed with the hands or feet. What I really love about these rings is that it's very portable so I can take it with me anywhere. Great for the many times I go out of town. Click here to purchase Suspension Rings.
Brute Force Sandbag: When you talk about lifting irregular objects, sandbag training is king. Brute Force Sandbags are the real deal. Everything about these bags speaks quality and craftsmanship. The perfect blend between functional strength, conditioning and pure power development. Use the Athlete sandbag for high rep, low weight, dynamic sandbag training. Use the Strongman sandbag for drags, squats and low rep, heavy weight training. They come with filler bags that you fill up with sand but I personally don't use sand. I've actually stuffed a bag each for the Athlete and Strongman with old shirts to give the sandbags a minimum amount of stability. And as the main filler I actually use Steel Bells from Hyperwear. Not only is it easier to gauge the load but it still provides the instability that putting sand in the filler bags do but with far less of a mess. Plus when I'm done, I can remove the Steel Bells and use them separately for all sorts of exercises. Click here to purchase Brute Force Sandbags.
SteelBells: The SteelBell is one of the most intense free weights ever created. SteelBells are filled with tiny balls of steel shot making it incredibly lively and challenging like no other free weight you have ever experienced. SteelBells are great for all the traditional free weight exercises as well as countless explosive power movements such as slams, tosses and throws. Its versatility makes it ideal for many types of training from general strength and conditioning to endurance based circuit as well as sports performance.The steel shot inside the SteelBell moves around more than sand, which increases the instability and grip characteristics and makes every movement more intense and engaging. As I mentioned previously, I like using these to fill up my Brute Force sandbags instead of the traditional filler bags filled with sand. I own a pair of 10lb and 20lb Steel Bells, and one of each of the 30lb, 40lb, and 50lb ones. Click here to purchase SteelBells.
Hyper Vest Pro Weight Vest: The Hyper Vest PRO weighted vest is nothing less than revolutionary. The innovative design features a unique fabric control system that hugs the body for an extremely comfortable fit, like a compression shirt, but does not restrict range of motion. The patented design flexes in the horizontal plane but not in the vertical plane. This allows for full chest expansion for breathing while keeping the weights in place even during vigorous, multi-plane movements. The Hyper Vest PRO weighted vest will take your training to the next level. Whether you are looking for sports performance training, cross training or general fitness, or rehab, the Hyper Vest PRO is the leading weight vest on the market. This really has to be one of the most comfortable weight vest I've ever used. Click here to purchase Hyper Vest Pro Weight Vest.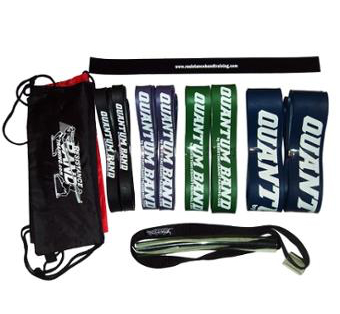 Resistance Training Bands: The RBT System was designed around the use of lightweight, continuously-looped Quantum Bands that provide an unlimited level of muscle strength training resistance while weighing less than 2 pounds per band. This unmatched portability combined with training versatility, makes the RBT System an extremely convenient workout solution. It doesn't matter if your goal is to lose fat, gain muscle or simply keep your body performing at a high level at any age. I own a pair each of their small to  XXL bands, a pair each of their green, black, and purple dynamic stabilizer bands, as well as their accessories which include handles, a utility strap, and a link strap. Click here to purchase Resistance Training Bands.